Powercore 360 CEO - Billy Glisan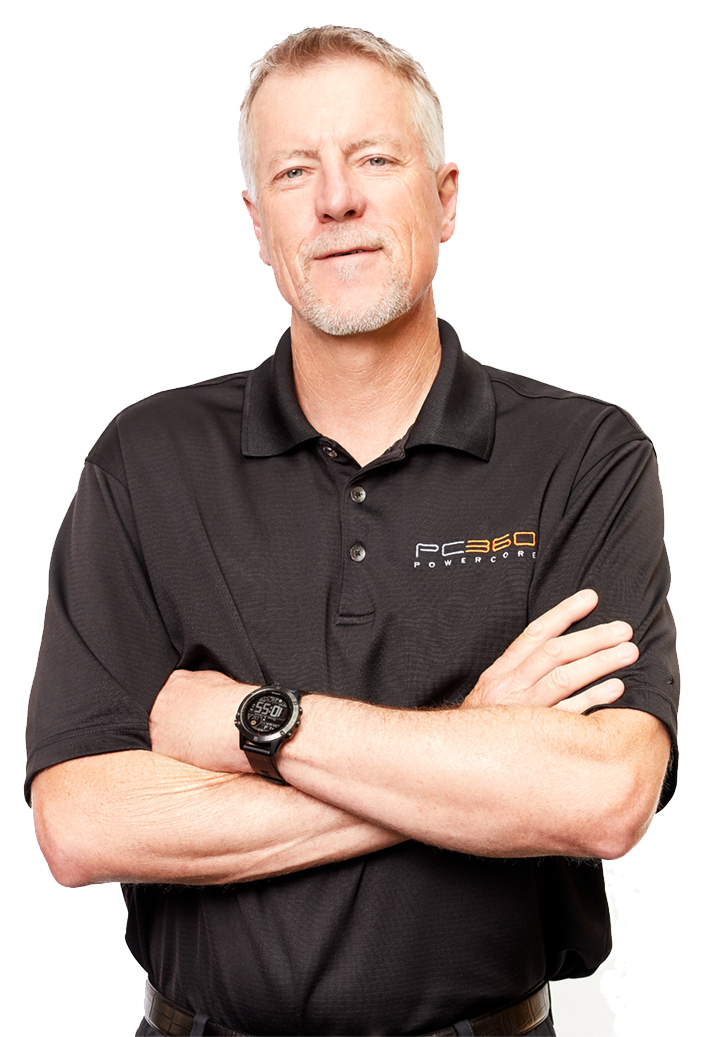 Bio - Billy Glisan, MS, CSCS
For more than 20 seasons, Coach Billy has trained Olympic and professional athletes, including State, National and World Champions. With a passion to help young athletes develop their skills to become serious collegiate players, he has become one of the United States' premier Strength & Conditioning and Power Hitting Consultants for NCAA Division I, II, III and Junior College NCAA Volleyball Programs, Front Range Volleyball Club, Northern Lights and Amarillo Elite. Coach Billy has twice presented at the American Volleyball Coaches Association (AVCA).
Glisan received his Bachelor of Science in Physical Education and Psychology at the University of Northern Colorado and his Master of Science in Exercise Physiology at Colorado State University.
Prior to starting Powercore360, Glisan was the National Director of Training for 12 rehabilitation centers for the nation's largest spine center at the Texas Back Institute. With his high-level training and experience, Glisan developed Speed & Vertical Jump Programs specializing in Baseball, Softball, Golf, Tennis, Hockey and Volleyball, which were the foundation of Powercore360.
Glisan has served as an Injury Prevention Consultant to many Fortune 500 companies including General Motors, Shell, ExxonMobil, Texas Instruments, and Target.
Coach Billy currently tours the United States as a skills coach, mentor and motivator. He trains professional athletes, coaches and student athletes in one-on-one training as well as group clinics. Glisan takes great pride in helping student athletes develop the skills to compete for coveted NCAA scholarships, and to play in top colleges and universities.
He has also authored several publications. Glisan was a contributing author to Back in Shape, A Back Owners Manual, 1991, Houghton Mifflin Publishers. And he authored the Consumer Guide Book: 50 Ways To Reduce Back Pain, by the Editors of Consumer Guide -1994 Publications International. In addition, Glisan has published several articles with AVCA.
Sports Were My Escape As a Kid
As a young child, sports were my escape from the sounds of my parents' fighting. I would spend hours outside the house just shooting baskets, throwing balls against the fence, running and catching balls, just to avoid being inside the house. Sports was my way of channeling my energy off the streets and into something positive.
But I was developmentally behind the other high school athletes. I was a late bloomer, so I got frustrated and quit basketball as a high school senior. I still wanted to play so after I finished high school, I played pick-up games against local college players and I loved it. A college coach noticed me and saw the raw talent I had.
Sports Saved Me
Sometimes a Coach can be a life changer for a young kid. That Coach gave me the hope that I could play college basketball. That became my goal. I worked hard; I spent hours in the gym every day, working on ball handling, jumping, and playing the game. I ran stairs, sprinted up hills, and jumped rope to increase my vertical jump, speed, and quickness. Like so many kids, I hoped for a career in the NBA, but I lacked the parental support, discipline and the guidance needed to get there. Because of that frustrating experience, I've made it my mission to help young athletes and their parents to achieve their dreams, whatever they might be.
Redirecting My Athletic Passion
After my hopes of a college basketball career and the NBA were dashed, I knew I had to go to college to make something of myself. I focused my studies on physical education and completed my undergraduate and masters' programs in five years.
As an undergrad, I discovered I had a gift for not only understanding, but also applying the science behind sports movements and training to improve a players' outcome.
In Graduate School, I received the advanced science education that would serve as the foundation for a career in fitness, wellness, spine rehabilitation, injury prevention, and sports training.
Training My Own Kids
Years later, as an educated parent of my own developing kids, I was frustrated watching many coaches who lacked the understanding of how physiology and anatomy work; coaches who did not break down the sport to help a young athlete understand how to master the game. I saw kids getting hurt as they were pushing their young bodies, still maturing, to perform stressful moves without fundamental training. I couldn't take it! I volunteered with my son's high school basketball team and within a few months, I was running strength and speed programs for both the boy's and girl's high school basketball teams. I enjoyed coaching the teams and seeing real progress quickly.
My Passion Became My Business
That's when Powercore360 began. I started a training business in Denver. I was training athletes in track & field, hockey, football, baseball, volleyball and golf. Simultaneously, I also a ran a multi-sport training program in Fort Collins, Colorado. I was giving back what that Coach did for me when I was young. I became that coach who helped young athletes master their sport and by doing so, live their dream.
Almost 20 years later, I have trained thousands of youth and professional athletes, including local, state, national, and world champions. Everything I do has to make scientific sense to me and has to be sound from a physiological, anatomical, and biomechanical perspective. I developed proprietary sports equipment to supplement the training. I regularly consult with a lot of bright physical and occupational therapists and orthopedic surgeons to keep up with new techniques and technology. I continue to work with a few select pro athletes to evolve my program and keep pushing the boundaries of what I do. I see a real difference in a lot of players physicality when I work with them. 
Life Lessons Come Full Circle
I learned a lot of my life's lessons through what my dad called "hard knocks." I learned not to quit, and I've learned what it takes (discipline, guidance, perseverance) to make it. And because of learning all of this, I've invested decades into helping athletes boost their performance and reach their personal best.
Sports- The Road To College Admissions
Sports can get a talented student into college, which is a gamechanger for them and their families. I am dedicated to helping families have better opportunities for their children.
I have the skill, tools, depth of knowledge, and the determination to help you and your kids make their dreams a reality.