Training For Coaches, Parents & Athletes....
Baseball Power Hitting &

Throwing Velocity Masterclass
College Pitcher's Experience w/ Baseball Masterclass!
Why Powercore 360 BASEBALL Masterclass?
TRAINING FOR COACHES, PARENTS & ATHLETES....
6-Week Baseball Power Hitting & Throwing Velocity Masterclass!
Our athletes hit & throw harder, make more teams and play more minutes, with less shoulder, elbow and back pain

Get ongoing swing development guidance from PC360 Master Coach for 6-weeks

1x/week hitting & throwing analysis & recommendations for improvements

Athletes commit to 3-5x/week training routine to improve hitting or throwing mechanics, improve strength, power & speed

Athletes upload videos of their workouts for assessment & recommendations 3x/week

Athletes are held accountable by completing

Powercore 360 Training App

Injury prevention exercises built into program to reduce or eliminate shoulder, arm & back injury risk

1x weekly LIVE Training and Q&A Sessions with PC360 Master Coach
Athletes we have trained have gone on to earn scholarships & play at these NCAA & Pro Programs!

PC360 BASEBALL TESTIMONIALS
FATHER, FORMER PRO PLAYER, TRAINING DIRECTOR
DIV. I NATIONAL CHAMPION & PRO PLAYER
READ THIS - Parent Email!
We genuinely care about helping athletes learn how to hit harder and throw faster while avoiding common shoulder & arm issues often experienced in throwing!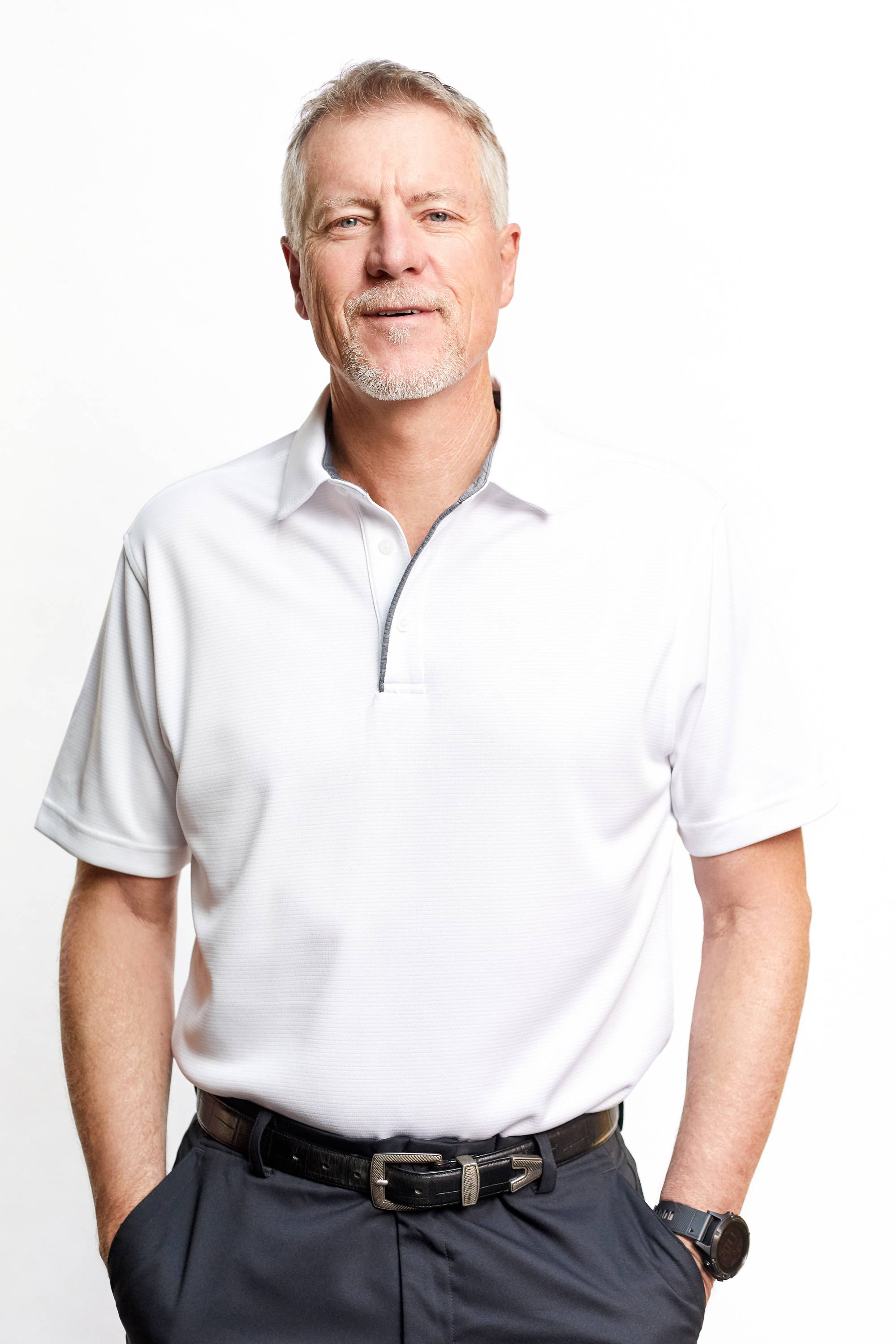 Undergraduate Degree in Coaching & Physical Education.

Master's Degree in Exercise Science.

Certified Strength & Conditioning Specialist (National Strength & Conditioning Association).

National Director of Training for 12 Rehabilitation Centers for Nation's Largest Spine Center.

Published Author: 1) Spine & Back Care Books & Articles, 2) Contributing Author Book: Back In Shape, 3) Consumer Guide Book: 50 Ways To Reduce Back Pain, 4) Articles on Back Strength in various magazines such as Shape and others.

Injury Prevention Consultant to fortune 500 companies such as General Motors, Shell, ExxonMobil, Texas Instruments, Target and others.

​Strength & Conditioning and Power Hitting Consultant for Division I, II and Junior College NCAA Volleyball Programs and numerous Volleyball Clubs.

​Trained Club, Collegiate, Olympic & Professional Athletes, including State, National, & World Champions. Sports include: Baseball, Softball, Golf, Tennis, Hockey, Volleyball, Lacrosse, Football, Track & Field and others for over 20 years.

Creator of the Patented Powercore 360 Rotational Training System.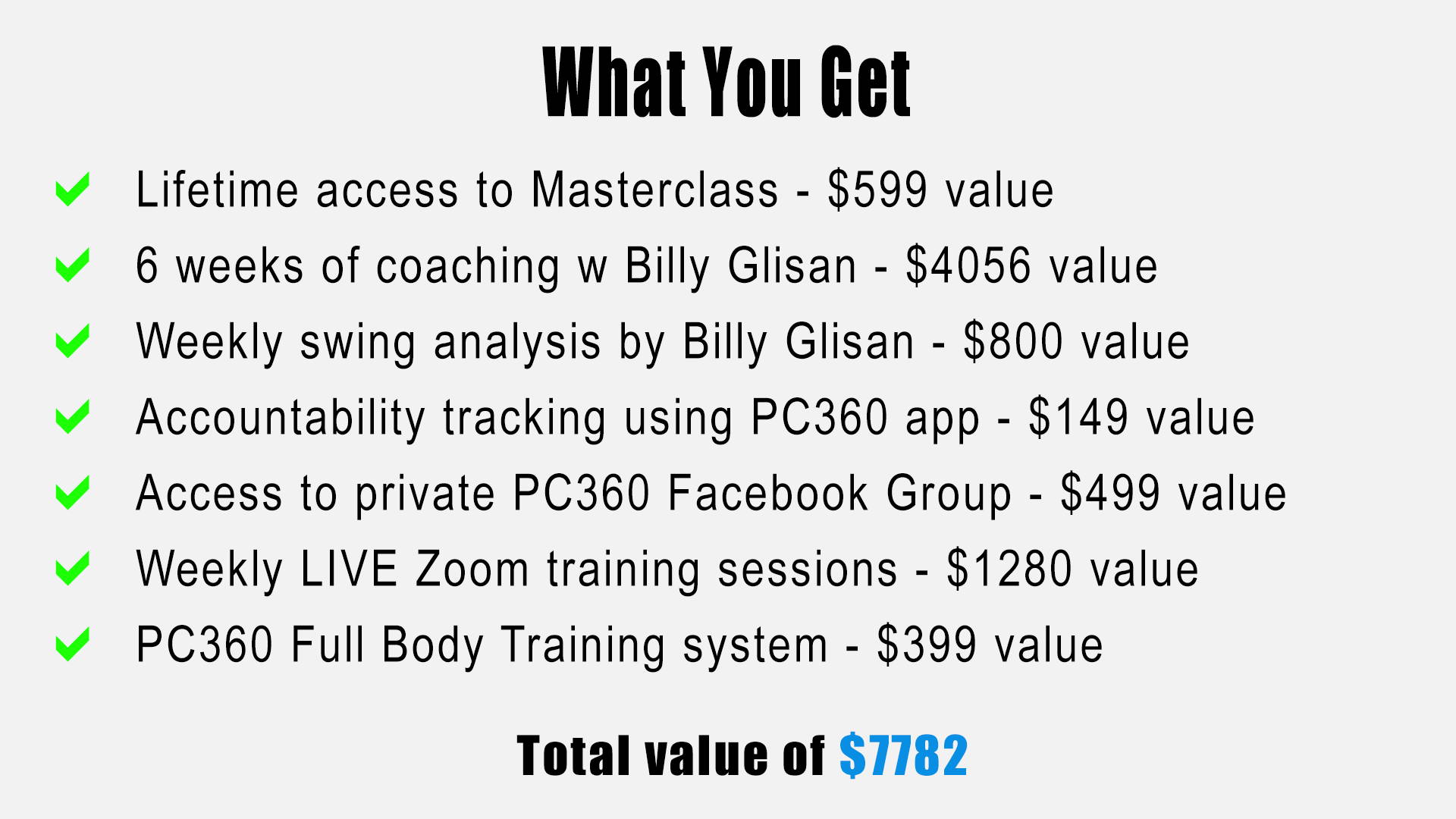 Excited to learn how? Lets Get In To It!!!!
​1 Live Q&A Zoom Sessions per Week for 6 Weeks with Billy Glisan

​Weekly Video Analysis & Individualized Program Recommendations for Each Athlete for 6 Weeks (6 Analyses)

​Written 6-Week Training Program for Athletes to Perform 3-5x/Week for 6 Weeks

​Access to PC360 Private Facebook Baseball Hitting & Throwing Group (Power Hitting Tips, Articles, Videos for Parents, Coaches & Athletes)

​Athlete Tracking App (Tracks Athlete Workouts)
LIVE TRAINING AND Q&A SESSIONS!
LIVE ZOOM Training Sessions to Provide Group Instruction

Question & Answer Sessions to Provide Clarification Regarding Mechanics, Exercises or Other Related Issues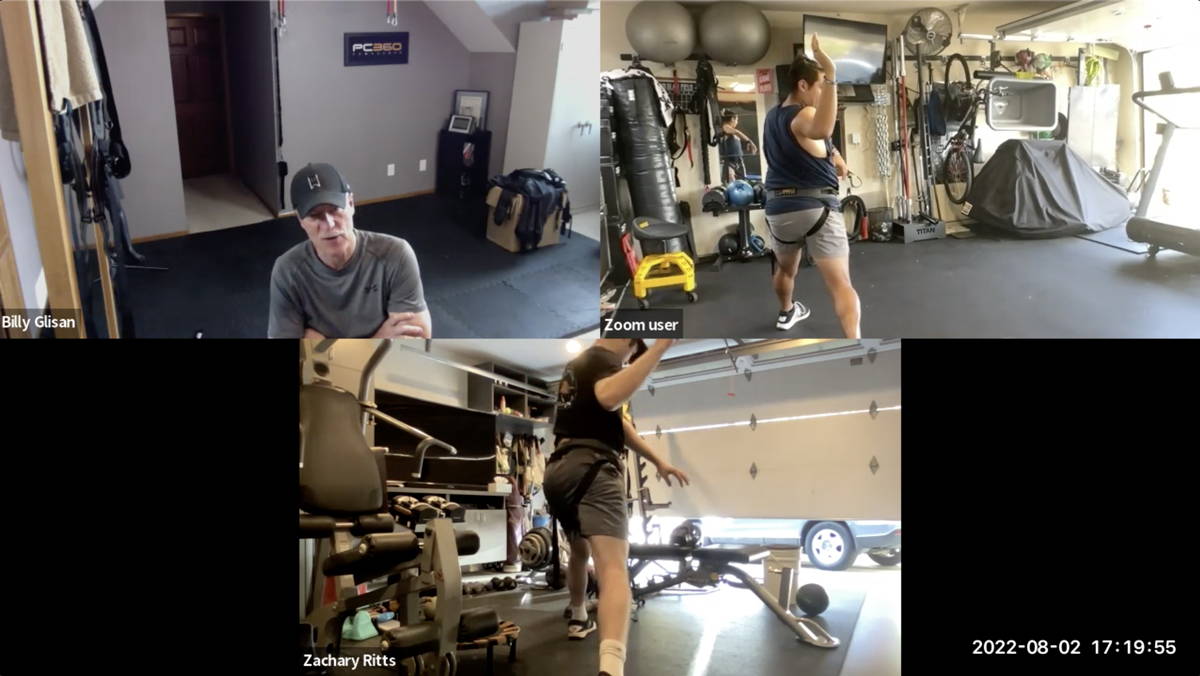 WEEKLY HOMEWORK (Exercise Program)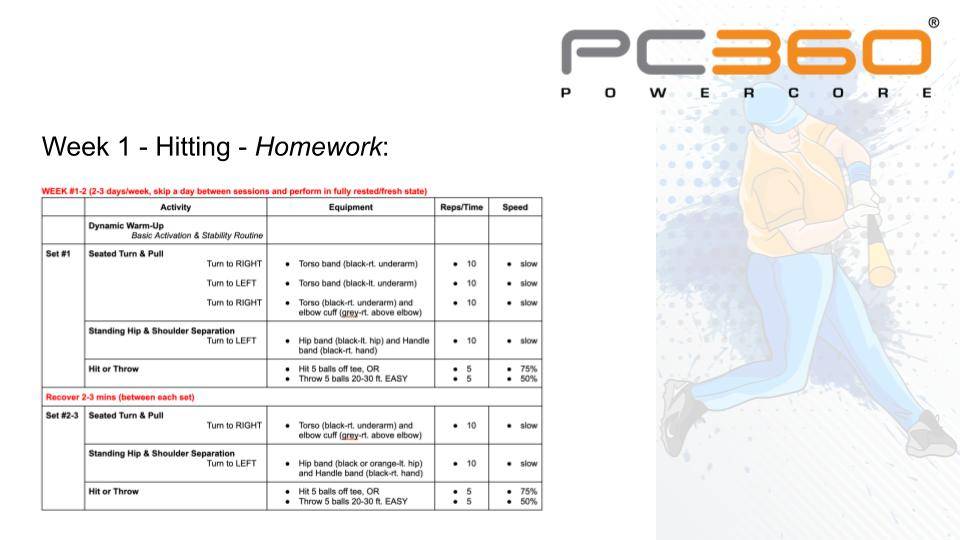 6-WEEK PROGRAM!
Athletes Follow 6-Week Program which they are Required to Complete 3-5x/Week.
Mobile App
Perform the program anywhere using our mobile app.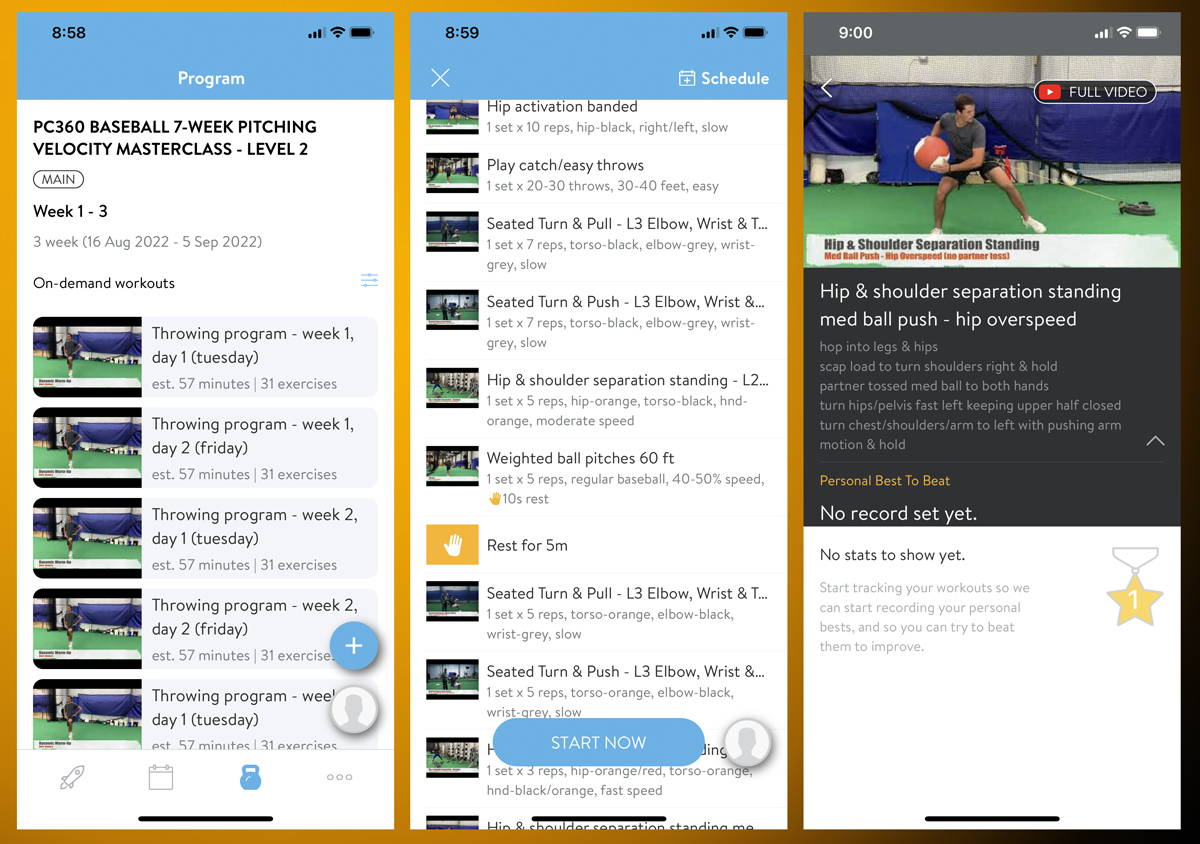 WEEKLY VIDEO ANALYSIS - HITTING OR THROWING
HITTING & THROWING ANALYSIS!
Video analysis of Hitting & Throwing Mechanics with Individualized Recommendations for Each Athlete.
We post video analysis feedback every week in our private facebook group.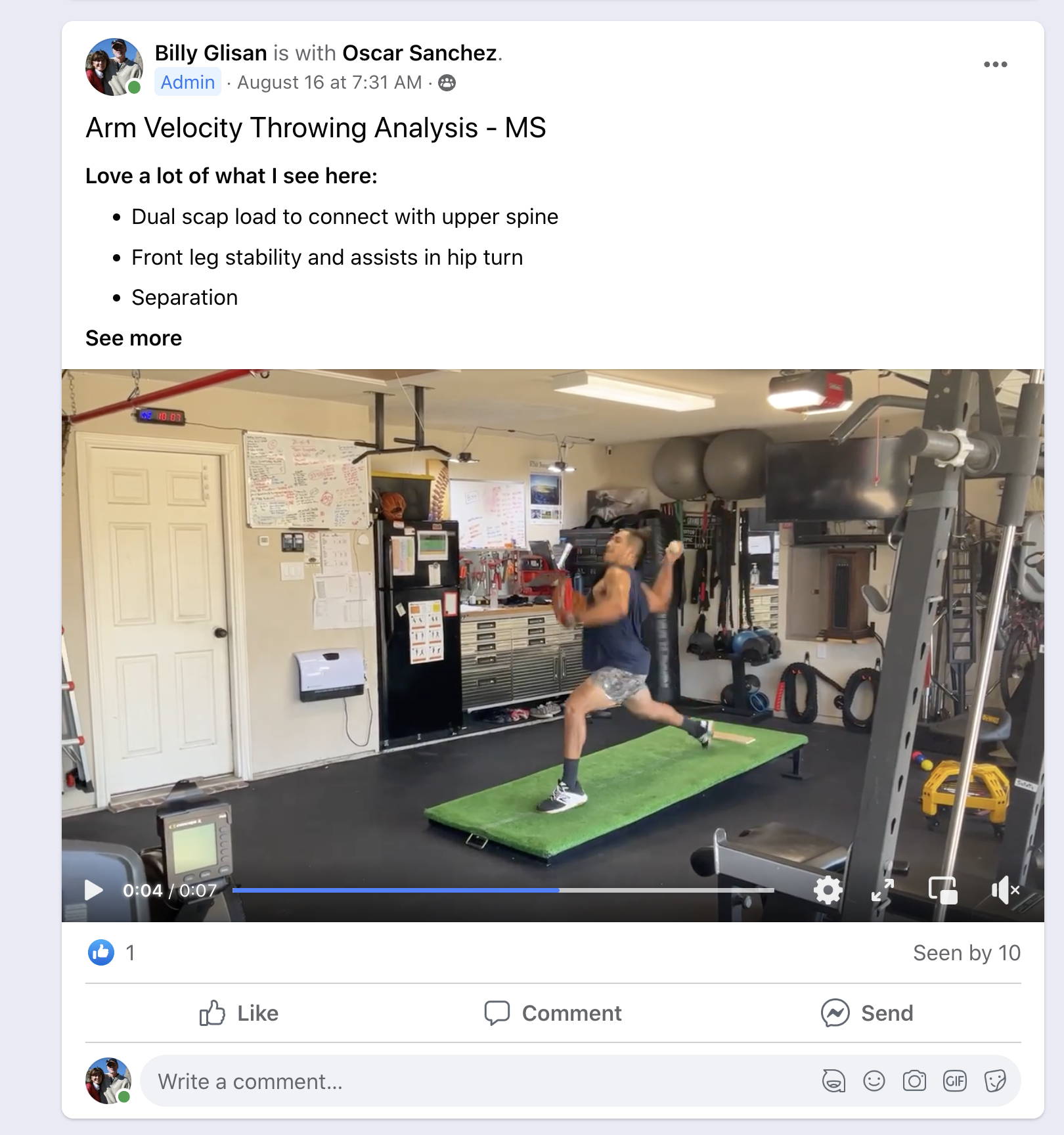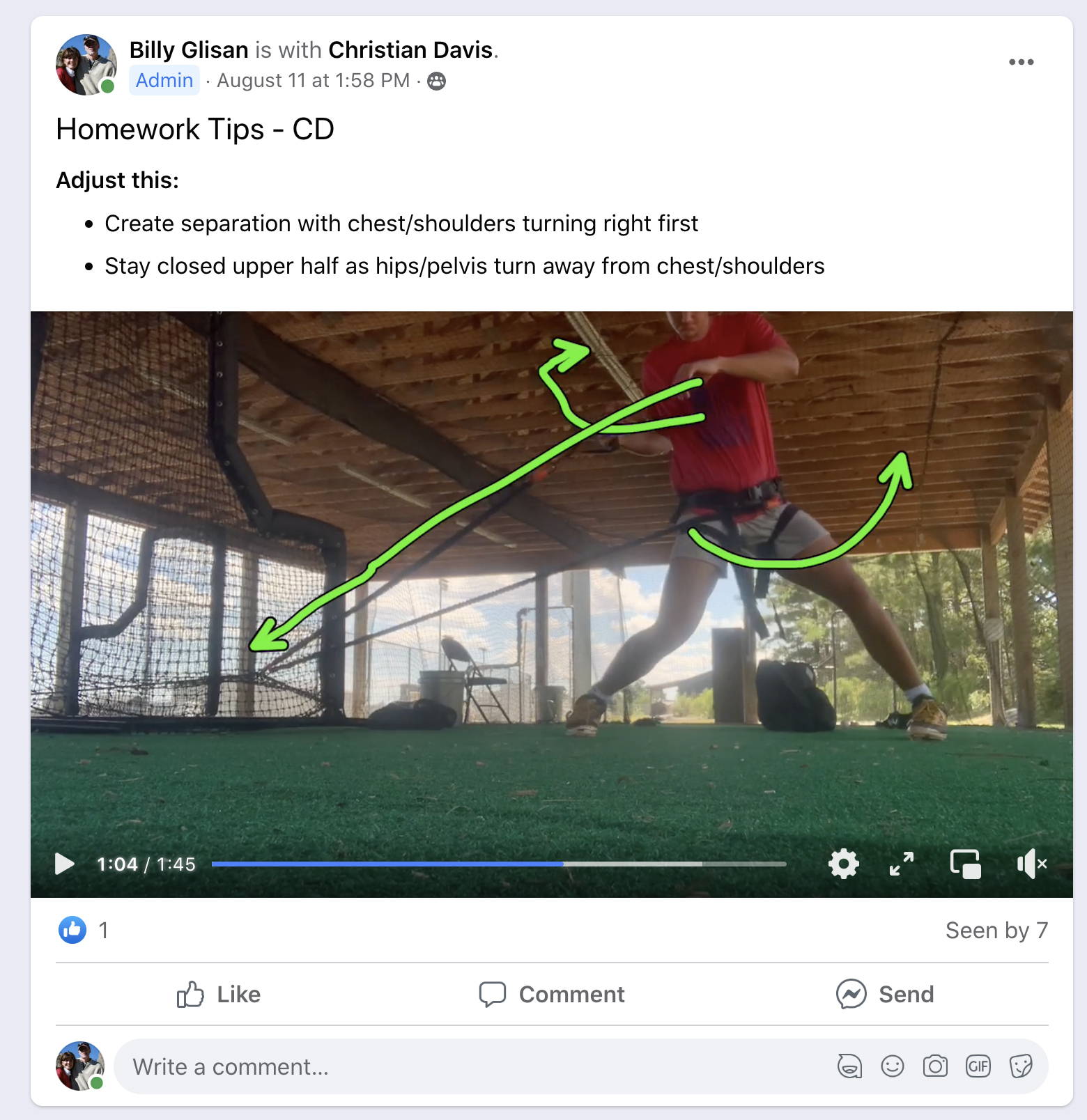 EXERCISE ANALYSIS!
Regular analysis, feed & recommendations to maxminze beenfit from weekly program exercises.
We post exercise analysis feedback routinely throughout the week in our private facebook group.
Have Questions? Dont hesitate to reach out and lets talk about how you can be involved
Call us @ 970-556-0435 or email @ billy@powercore360.com
OUR BASEBALL TRAINING PRODUCTS
Our Full Body Training System (retail value $399) is included for free in this Masterclass.
Athletes learn fastest with FEEL and our products allow athletes to FEEL the correct power hitting movements as they move.
Our products were designed specifically to work every part of the body needed to produce power, speed and health in the swing or throwing motion.
MECHANICS, STRENGTH & SEPARATION
Trains proper mechanics and builds strength, hip & shoudler separation, power & speed at the same time.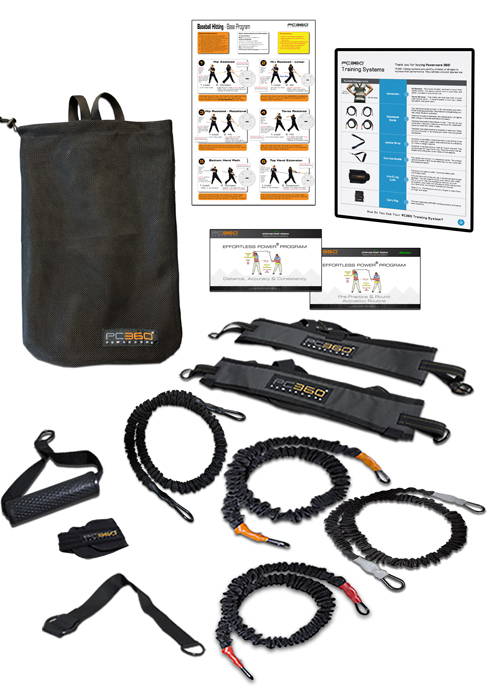 Powercore 360 Full Body Training System ($399 retail)
Athletes learn the fastest when they can FEEL sports movements.
This system trains:
- rotational power
- arm speed
- hip turn
- shoulder turn
- hip & shoulder speration
- shoulder & rotator cuff strength
- core & spine strength
In our masterclass we will train you how to use our system to improve hitting power hitting, throwing velocity, hip & shoulder separation and reduce injury risk for baseball players.
This equipment is completely mobile and can be used at home, at the gym or on the field to improve mechanics, power & speed for hitting & throwing.
Importance Of Scap Connection "Load"
The shoulder blade or "scap" as it is commonly referred to in sports training circles is critically important in increasing, hip & shoulder separation and ultimately hitting power & throwing velocity.
This college pitcher demonstrates how we train the proper movement and "connection" of the scap as they move the shoulder and arm for throwing & conditioining.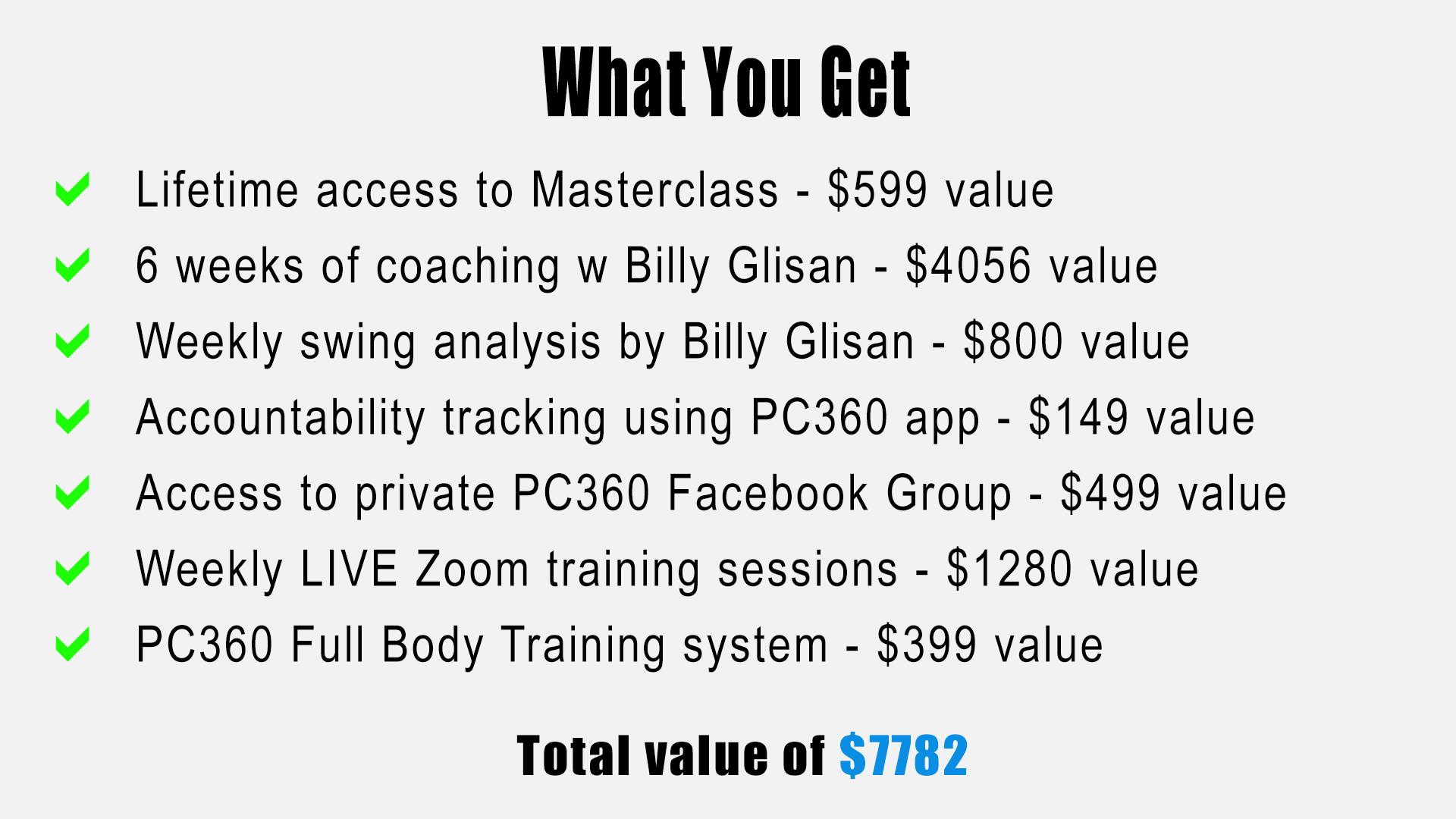 Lifetime Access to this Baseball Training Course - $997 Value
8 Weeks of Customized Coaching w Billy Glisan - $4056 Value
Weekly Swing or Throwing Analysis - $800 ​Value
Accountability Tracking w PC360 App - $149 Value
Access to Priavet Facebook Group - $499 Value
Weekly LIVE Zoom Training Sessions - $1280 Value
Powercore 360 Full Body Training System + (additional arm cuff & resistance band) - $399 Value
Total value of $7782
Lifetime Access to this Baseball Training Course - $997 Value
8 Weeks of Customized Coaching w Billy Glisan - $4056 Value
Weekly Swing or Throwing Analysis - $800 ​Value
Accountability Tracking w PC360 App - $149 Value
Access to Priavet Facebook Group - $499 Value
Weekly LIVE Zoom Training Sessions - $1280 Value
Total value of $7383
Have Questions? Dont hesitate to reach out and lets talk about how you can be involved
Call us @ 970-556-0435 or email @ billy@powercore360.com